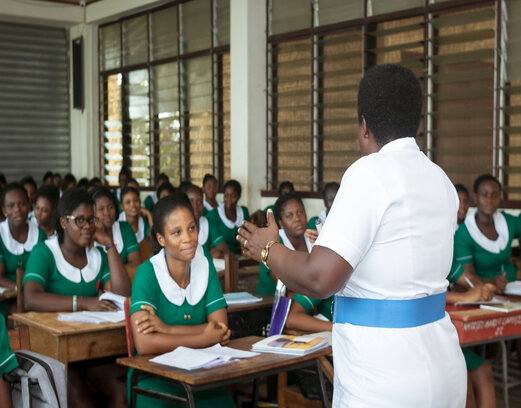 STATEMENT FROM THE ACADEMIC COORDINATOR
The Holy Family Nursing and Midwifery Training College, Berekum was the first Health Training Institution in the region to train qualified Midwives. The College over the years have placed emphasis on competence and professionalism hence our motto: "Before you learn to care, you must care to learn".
As part of our objectives, we train our Midwifery sudents to uphold ethical and professional standards. As a Catholic Institution we instill in our students the Gospel values of the Kingdom of God among which are, love, compassion, forgiveness, humility, sacrifice, tolerance, care of the sick, women, children and the vulnerable. In other words, we do not only train the mind but the heart too, and this is what makes us unique.
ABOUT THE PROGRAMME
The Registered Midwifery programme is a six-semester (three year) Diploma programme that prepares the individual in Basic Nursing with special option in Midwifery. This programme is however opened to ONLY FEMALES.
The goal of the programme is to produce a polyvalent midwife who will practice midwifery in any part of the community, country and sub-region.
The professional midwife would have acquired knowledge, skills and attitudes to recognize the total reproductive health needs of individuals, families and communities, and participate effectively in meeting those needs.
ENTRY REQUIREMENTS

Age Limit

18-35 years
Aggregate
SSCE/WASSCE Certificate with an aggregate score of Twenty-Four (24) or better in six-subjects, comprising 3 core subjects and 3 elective subjects.
Core Subjects and Minimum Grade

A1-C6 (WASSCE) and A-D (SSCE) in three core subjects i.e. English, Mathematics and Integrated Science.
Elective Subjects and Minimum Grade

At least passes i.e. A1-C6 (WASSCE) and A-D (SSCE) in three subjects in any of the following;
General Science (Biology, Chemistry, Physics, Mathematics, French and ICT)
General Arts (Africa Traditional Religion/Christian Religious Studies/Islamic Religious Studies, Literature-in-English, French, Arabic, Geography, Government, History, Economics, Mathematics, ICT, One Ghanaian Language, and General Knowledge-in-Art)
Home Economics (Management in Living, General Knowledge-in-Art, Food and Nutrition, French, Economics, Chemistry, ICT, Biology, Physics and Mathematics)
Agriculture (General Agriculture, Biology, Chemistry, Physics, Mathematics, ICT and French).